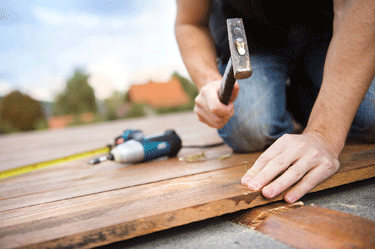 Now that I have retired from my twenty year career in education, I theoretically have the time and energy to devote to tasks and projects that have been begging for attention for the past few years. I made a list: new bathroom fan, ballast on the fluorescent light in the basement, replace the motion sensitive light in the backyard, new sill cock on the backyard faucet. All small and annoying jobs that contractors hesitate to take on. The small jobs are just not worth it and the effort that it takes to find a reputable craftsman deters my efforts. 
I take to Google – "how to change a ballast on a fluorescent light", "replacing a bathroom fan", and any other jobs that have come to my attention now that I have time to notice them. Having wired most of the lighting fixtures and some of the outlets in our house over the past 38 years, I fancy myself an amateur electrician. "Black to black, white to white, and the ground wire. Don't forget the ground!" My self-talk through the process is derived from my father's demonstration of the skill and my subsequent attempts to master electricity. So far, so good! My attention to detail, to shutting off the breaker at the electrical box, and to applying lots of electrical tape ensures that I have not been electrocuted or that I haven't sparked a conflagration. 
Presently, I am at the mercy of a contractor who is replacing the front stairs of our house. A job that I could not Google, I needed to find a contractor who came well recommended. Three interviews later, we went with someone that had done work for one of Tim's co-workers. When we met with the contractor, he took copious measurements and pondered on the approach that he would take to attack the chore. We were encouraged. We were assured that the job would take two weeks. We were hopeful. Half the cash down now, and half when the job is finished. We signed on, eager to be ready for a harsh New England winter with shiny new and safe stairs. 
Now four weeks into the process, we have stairs but the job was not complete. We are at the point in the job where the contractor has started his next job and we are an afterthought. Breezing in and out, I never know when the driveway will be off limits due to the onslaught of work vehicles. Days go by with no activity. Promises of "the next day" come and go. I text, he responds. I am cordial but my patience is wearing thin. Finally, I held on to the promise that the job would be complete before we set off to an out of town family wedding last week. It was not.
In our absence, a crew appeared and "finished" the job. Back from the airport, I pulled into the driveway. I was sure that they were not finished. I called for a meeting and the contractor obliged. Apparently the lattice that we expected to cover the foundation and footings was not included in the original price on the contract that we signed in August. Add to that the foundation for the stairs, which apparently was another extra charge. Now over the original contract by almost $2500, I was concerned. There was confusion despite a contract in hand and the cost was over budget. The railings that we had planned and contracted going down the lower front stairs were not done to our satisfaction and became another sticking point . The adjustment became another expense. When the change order came through, I lowered the boom. "No more! Finish the stairs and we are all set!" Desperate, the contractor  tried to negotiate to get me to agree to additional work, but I had paid enough and was glad to at least have the original stairs that were needed most. I was willing to eat the cost of what we were forgoing to get the job finished.
Having built two houses and renovated another one from the studs, I have been to the contractor rodeo too many times. As a landlord of a two family house close by, I have hired my share of skilled craftsmen for all sorts of jobs. Unfortunately, good workers are hard to find and way too rare. Every time I need to find someone to help with a job, I cringe. And when I do find someone who is reputable and honest, I hold on to them like grim death, knowing that the world out there is teeming with the unscrupulous as much as it is full of good and decent people. It's a crap shoot. I know that the good ones are out there, it's just a little difficult to know if even the most highly recommended worker will follow through. 
My father always distrusted contractors, but I chalked it up to his paranoia and frugality. In the end, he let things go and his house fell into disrepair.  I have vowed not to repeat history yet I have learned, to my detriment, that even when corners are not cut and workers are hired in good faith, things go wrong, sadly more frequently that one would expect. I won't say my father was right entirely. Good people exist, and due to their credibility, are in demand. For that reason, I never take Frankie, my plumber, for granted. I value my electrician, Greg, for his fine work and honest practices. Brian, my carpenter and handyman, is skilled, clever, and decent. I rely on them and, whenever they work for me, I profusely thank them for their service. They must think I'm a bit daft. If they only knew what a rare commodity they are!
As I sit here listening to the hum of saws and drills just outside my door, I hope that we are near the end. I know that this will be the last project I will undertake for a while. I lack the stamina required for these endeavors, even though I haven't lifted a hammer or a screwdriver. In the meantime, it's back to Google for the small jobs and I will pray that nothing else breaks, decays, or otherwise needs a fix, at least until I replenish my bank account and get the nerve to go a few more rounds in the boxing ring of home improvement.